The primary objective of the Community Development Block Grant (CDBG) Program is the development of viable urban communities, by providing decent housing, a suitable living environment, and expanding economic opportunities, principally for persons of low to moderate income.
The City of Rome determines its spending priorities each year by conducting public outreach efforts through public meetings and surveys, consultation with local organizations, and its Community Development Advisory Committee (CDAC), which is comprised of three City Councilors and one constituent from each of the City's seven wards.
According to US Housing and Urban Development (HUD) guidelines, the City must give maximum feasible priority to activities which benefit low- and moderate-income persons. The City may also carry out activities which aid in the prevention or elimination of slums or blight. Additionally, the City may fund community development needs having a particular urgency because existing conditions pose a serious and immediate threat to the health or welfare of the community where other financial resources are not available to meet such needs. CDBG funds may not be used for activities which do not meet these broad national objectives.
CDBG Target Area: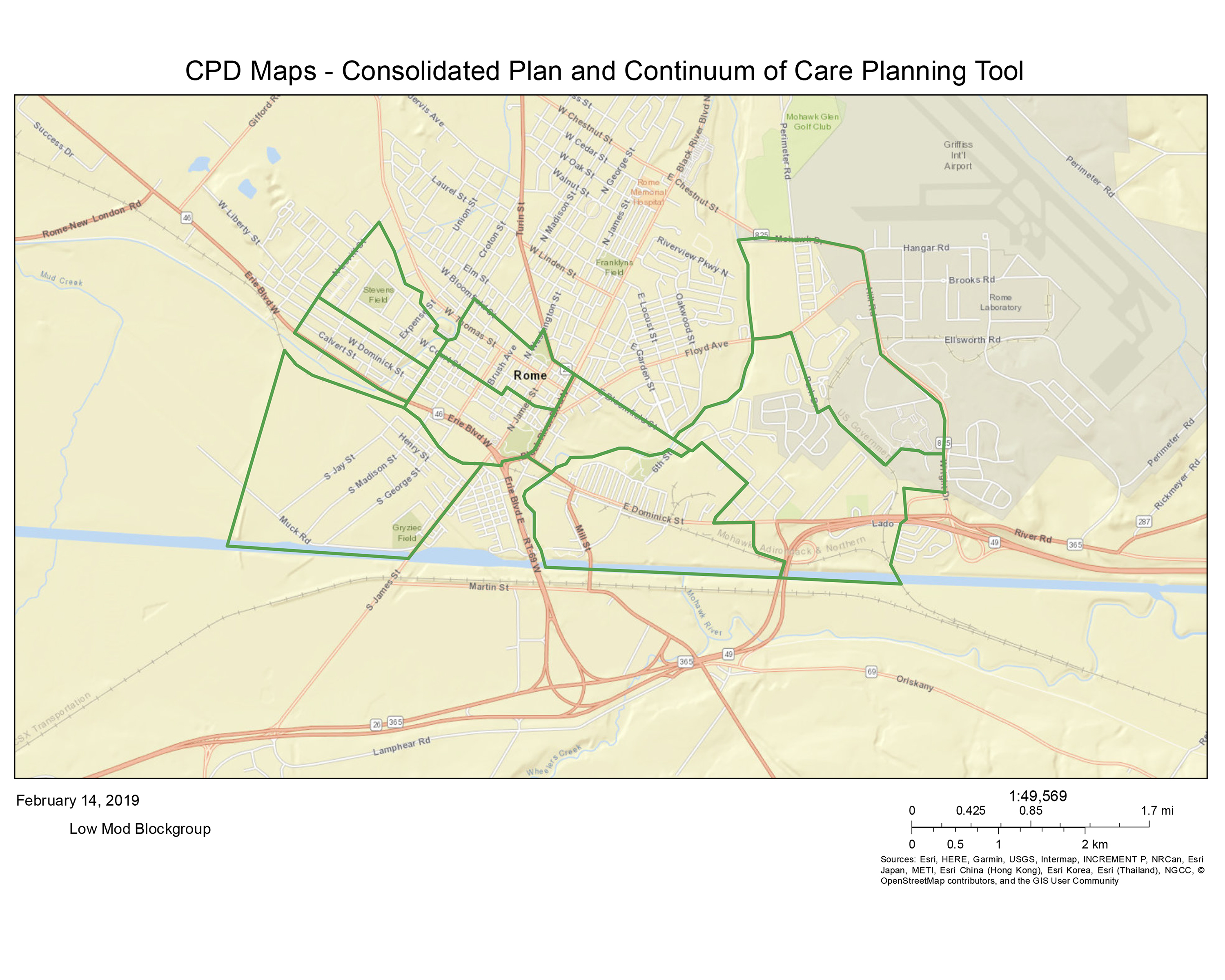 CDBG funds may be used for activities which include, but are not limited to:
acquisition of real property;
relocation and demolition;
rehabilitation of residential and non-residential structures;
construction of public facilities and improvements, such as water and sewer facilities, streets, neighborhood centers, and the conversion of school buildings for eligible purposes;
public services, within certain limits;
activities relating to energy conservation and renewable energy resources; and
provision of assistance to profit-motivated businesses to carry out economic development and job creation/retention activities.

The Commercial Façade Improvement Program offers funding for small businesses located along eligible City Main Street Corridors. Eligible applicants may request forgivable loans up to $24,999 for façade work, dependent on the project's scope, private investment, and commercial area eligibility.

Program target areas are located along portions of East and West Dominick Street and North and South James Street. A special exception for projects outside the target area may be granted in rare instances for anchor businesses demonstrating need, considered on a case-by-case basis.

Loans do not have to be repaid to the City provided the applicant continues to own and operate the space for five (5) years.

To learn more about eligible façade improvements please review the design guidelines in the links below. If you are interested in applying for this program please contact the Department of Community and Economic Development to schedule an appointment.

Documents Available for Download:

2018 CAPER
CDBG Timeline
CNA Community Profile
CNA Roundtable Summary
CNA Survey Summary
CNA Goals Summary
2015 – 2019 Five Year Consolidated Plan
Tenants' Rights Guide
Facade Application Form
Facade Program Applicant Design Guidelines
Applicant Storefront Design Manual

Community & Economic Development Contact Information:

Ashley D'Amore
Community Development Advisor
(315) 339-7645
Email: Ashley D'Amore