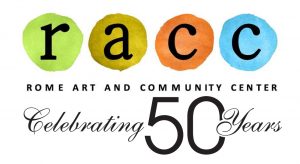 The Rome Art and Community Center is a nonprofit multi-arts facility committed to fostering creativity, cultural awareness, and a strong community connection through a broad range of programming and services located in the beautiful Carpenter House.
Housed in a beautiful Tudor mansion, the Center is unlike any other arts organization in the area. The Center features lovely period architecture and sprawling grounds, and is home to art galleries, art studios, performance spaces.
For 50 years, the Rome Art & Community Center has worked to keep the arts alive and well in Central New York. The Center offers a wide variety of programming including The Owl and the Silver Moon Pre-K, Creative Arts Classes, Artletics Summer Camp, Summer Shakespeare, Art Exhibits, Classical at the Center Series with the Alliance Classical Players, Taste of Rome and other community events.
Rome Art & Community Center is looking forward to a bright future—We hope you will be a part of our cultural community! Learn more at www.romeart.org.