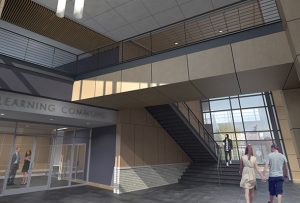 Founded in 1946, Mohawk Valley Community College is a public, co-educational, two-year institution. The College is a unit of the sixty-four campus State University of New York System (SUNY). Mohawk Valley Community College promotes student success and community involvement through a commitment to excellence and a spirit of service. The College has approximately 6,000 students and 82 international students.
All Mohawk Valley Community College students benefit from a variety of support services such as assistance in finding suitable off campus housing, health services, academic advising, personal counseling, orientation, multi-cultural and international student services and advisement, transfer services and career counseling. Mohawk Valley Community College students participate in a broad range of activities, clubs and organizations. Both intercollegiate athletics and intramural sports are available to men and women students.
The Mohawk Valley Community College Rome Campus just completed a $30 million renovation in 2017, enhancing their campuses capabilities. This campus is home to programs including Unmanned Aircraft Systems (UAS), STEM, and a nationally recognized Hospitality program.
To learn more about Mohawk Valley Community College, visit www.mvcc.edu.