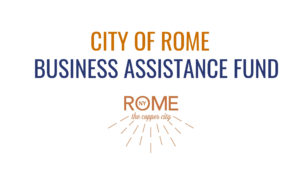 The City of Rome's Business Assistance Fund (BAF), one of the Downtown Revitalization Initiative (DRI) priority projects, will be opening the second round of applications on June 1, 2020.
The Business Assistance Fund (BAF) will provide funding to strengthen and make necessary improvements for Downtown businesses and buildings within the DRI target area. The fund has been developed to provide resources to stimulate investment and economic development through projects that align with the greater DRI vision.
Interested parties who wish to apply can find the program guidelines, FAQ and Round 2 schedule below.
All applications must be submitted by June 26 at 4:30 p.m. by email to MEnos@romecitygov.com. Applicants will receive a confirmation email. 
Round 2 Schedule:
June 1– Application Opens
June 8– Virtual Public Meeting 11:30AM
June 26– Application Closes
Documents for Download:
Business Assistance Fund Round 2 Presentation
Business Assistance Fund Round 2 Application
Program Guidelines
FAQ Brochure
Rome DRI Strategic Investment Plan