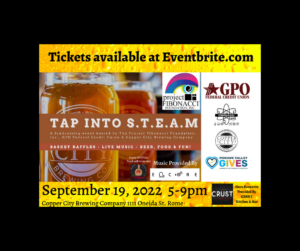 Tap Into S.T.E.A.M
by The Project Fibonacci Foundation Inc.
Tap Into STEAM Fundraiser Event Sponsored by GPO Federal Credit Union
Join the Project Fibonacci® Foundation, Inc. and other local nonprofit organizations for a night of fun, raffles, and live entertainment at Copper City Brewing Company, sponsored by GPO Federal Credit Union.
Admission includes a limited-edition Fibonacci 1.618-pint glass, a free sample of the new Fibonacci 1.618 brew, 2 tickets to start for our benefit raffle featuring incredible prizes from local businesses, live music by Encore, food provided by Crust Kitchen & Bar, and much more!
Gypsy Girl Pizza will also be on-site.
Proceeds from the community basket raffles will benefit local nonprofit organizations including:
The Community Foundation of Herkimer & Oneida Counties will join us to share more information about Mohawk Valley Gives. Score some freebies from participating nonprofits & businesses!
Ticket URL-$20pp
https://www.eventbrite.com/e/tap-into-steam-tickets-395263703377